In auto racing, seconds can make the difference in winning or losing a race. NASCAR teams have proven the effectiveness of what's referred to as the "pit crew" approach to rapid, coordinated, race car pit maintenance stops to avoid unnecessary delays, get critically important tasks completed in the minimum amount of time and avoid errors that can cost them time and, ultimately, the race.
In the race to save cardiac arrest patients, it's now also been shown that the use of a "pit crew" approach by EMS crews can also make resuscitations more effective by reducing interruptions in compressions and peri-shock pauses, reducing delays in interpreting cardiac activity, eliminating pauses for airway management and reducing the time it takes to place and activate mechanical CPR devices.
This series of articles focuses on three progressive EMS systems that have each been highly effective in standardizing their approach to cardiac arrest resuscitation by implementing the pit crew approach to resuscitation, using well-defined process and clinical procedure checklists and other methods to limit delays in the care and resuscitation of patients.
Wake County, N.C.
Over the past six years, the Wake County EMS System (WCEMS) has used the pit crew approach to cardiac arrest management which has resulted in an increase of neurologically intact survivors. Each provider has a specific role aimed at the return of spontaneous circulation and neurological survivability.
WCEMS has enough resources to dedicate a minimum of three ALS response units to every cardiac arrest so that quality care may be delivered on scene. This typically includes two ambulances, a district chief (DC) and/or an advanced practice paramedic (APP). In addition to these, each arrest will have one or more dedicated engine companies from a local fire department.
WCEMS has developed a great working relationship with the local fire departments and other first responder agencies. Fire personnel primarily concentrate on continuous compressions, bag-valve mask ventilations and early AED defibrillation prior to EMS arrival. They're essential members of the resuscitation team and are integrated from dispatch to ED transport.
Cardiac arrest resuscitation in Wake County is a well-organized delegation of responsibilities among personnel. Everything possible is done to ensure three paramedics are on scene to assume the responsibilities of code commander, airway management and IV/intraosseous establishment with medication administration. The code commander is the keystone to this team approach.
The code commander focuses on the overall resuscitation, with their primary focus being on the ECG monitor. This ensures that any rhythm changes are quickly identified and addressed. The code commander also oversees the overall pace and timing of critical interventions such as medication administration, two-minute rhythm checks, ventilation rate and compression rate aided by a metronome.
Per protocol, the code commander uses the cardiac arrest checklist, which is a valuable tool for both pre- and post-ROSC. This checklist encompasses all the necessary components of a successful resuscitation and is an important part of delivering the same standard of care to all patients. (See sidebar, p.7.)
The most recognizable innovation to Wake County's cardiac arrest management has been intra-arrest induced hypothermia. This critical intervention for neurological survival has been integrated into the resuscitation through the DCs and APPs who bring cold saline to the arrest.1
It's imperative to the success of this intervention that receiving hospitals participate. WCEMS has coordinated with multiple area EDs across multiple hospital systems to ensure cooling is continued.
In addition to supplying cold fluids, the DCs and APPs also fill a vital role in helping accomplish the systems goals of compassionate and clinically excellent care. By working with the patient's family and loved ones, the DC or APP act as a liaison between the code commander and family.
Due to the emotionally traumatic nature of many cardiac arrests, DCs and APPs invite the family to observe the resuscitation efforts. By presenting the family with the facts of the resuscitation, they can assist them in making sound decisions regarding their loved one's care. Families are encouraged to ask questions and understand each intervention of the resuscitation in an attempt to help them cope with the arrest and its ultimate outcome.
When utilizing the team approach, WCEMS has discovered that it may be necessary to continue beyond the 30 minutes commonly recognized for resuscitation attempts. WCEMS has demonstrated that patients 60 minutes or longer into an arrest may still have the possibility of surviving neurologically intact.
Despite each responder having a defined role, prior to terminating resuscitation efforts, the code commander uses the collaborative knowledge of the personnel on scene, which is especially valuable in rare extended resuscitations.
Once ROSC has been established, the roles for each responder may change, but the concept remains the same. Emphasis is placed on maintaining continuous carotid or femoral pulse monitoring by a dedicated team member keeping a fnger on the pulse. This is important during the movement of ROSC patients to the stretcher or ambulance in the case of re-arrest.
The results in Wake County have been significant with WCEMS numbers for all cardiac arrests tracked in our CARES report (all rhythms, all codes that were witnessed, un-witnessed, or EMS-witnessed) exhibiting 42% sustained ROSC (194 of 463 patients) and 91% of all survivors are neurologically intact on discharge (63 of 69 patients).
For total bystander witnessed arrests (all rhythms) our ROSC was 58% (97 of 169 patients), with a 95% confidence interval (CI) of 50—65%. And, for witnessed, shockable rhythms, our sustained ROSC using our pit crew approach and treatment modalities was 68% (39 of 57 patients), with 95% CI 55—79% and discharged alive 26 of 57 patients (46%), 95% CI 33—58%. all of whom were neurologically intact. (See table above.)
Utilizing the "pit crew" approach will improve outcomes for the citizens and the families you serve by assuring evidence-based therapies are consistently provided. It will also provide a framework to integrate new therapies. While interventions such as continuous compressions and early defibrillation are the cornerstones of resuscitation today, as we continue to improve our knowledge of resuscitation through research the team approach can be easily modified to incorporate future best practices with consistency.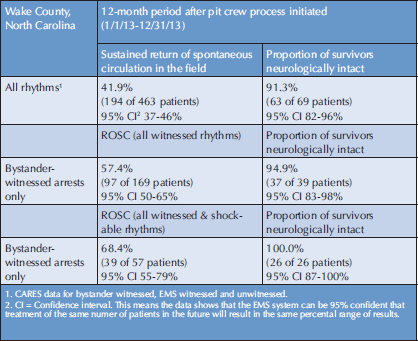 Brent Myers, MD, is the director and medical director of Wake County EMS System.
William D Holland II, BS, M.Div, EMT-P, is a paramedic and field training officer with Wake County EMS System.
Candice M. Eason, AAS, EMT-P, is a paramedic and field training officer with Wake County EMS System.
Justin Carhart, AAS, EMT-P, is a paramedic and field training officer with Wake County EMS System.
References
1. Hinchey PR, Myers JB, Lewis R, et al. Improved out-of-hospital cardiac arrest survival after the sequential implementation of 2005 AHA Guidelines for Compressions, Ventilations, and Induced Hypothermia: The Wake County experience. Ann Emerg Med. 2010;56(4):348—357.