By Allison J. Bloom, Esq., & Matthew M. Womble, MHA, Paramedic
From the publication of the "EMS Culture of Safety" document to the uptick in interest and adoption of "Just Culture" methodologies, there has been a lot of warranted discussion about safety culture in EMS.
1
While the healthcare industry has formally adopted patient safety as its focus in the wake of reports identifying the avoidable harm caused by healthcare, "safety culture" incorporates all aspects of safety, both for the provider and patient. In our world, paramedics and EMTs are at high risk of injury or death; three times that of the average worker and 30 times the national average for vehicle incidents and higher than fire and police. So in order to take care of our own, we have to improve our safety culture.
What Is Safety Culture?
"Just Culture," the increasingly popular effort to create open, less punitive environments for reporting of errors, is part of safety culture, which also includes the ability of your organization to improve once the issues are identified. Safety culture is a part of the overall culture of your organization and it represents the artifacts, espoused values and tactic assumptions regarding safety (see sidebar). As mobile healthcare providers, safety culture touches most every operational and behavioral aspect of EMS organizations, regardless of whether the organization engages in emergency or non-emergency activities (such as inter-facility transfers or MIHP-CP activities). By improving our safety culture we improve our ability to safeguard our providers, who can in turn protect the safety of our patients. This article explores how Patient Safety Organizations (PSOs) can help improve the safety culture with a focus on provider safety.
Provider Safety
In order to understand the impact of safety culture on providers, we first need to understand what the evidence tells us about the issue. According to Brian McGuire's extensive research in the area of provider safety, we understand that a lot needs to be done to better protect our EMTs and paramedics:
2,3
EMTs' and paramedics' mortality rates are three times the average worker.
Transportation incidents are 30 times higher for EMTs and paramedics than the national average, with higher chance of fatalities. This is more than any other area of public safety.
Non-fatal occupational injuries (lifting, slips, trips and falls) are six times that of the national rate for workers and almost two times that of the fire service
The prevalence of violence against EMS providers is 22 times the national average.
These statistics are sobering but not new.
4
While some improvements have been made in recent years in areas such as technology, vehicle construction and other indications in the artifacts of our cultures (the things we wear and do) that safety is gaining in relevance and importance, we don't know if we've really improved. On the one hand, eye protection is more commonly seen hanging on the epaulettes of our uniforms or being worn during a call, but what about seatbelt use? A basic technology that has been shown to improve safety and is enforced for use by the public—are we using seatbelts in the back of the ambulance, or even consistently in the front? What is it about our tacit assumptions that makes us act as through we are immune to the basic risks preached about in safety trainings and briefings?
Using PSOs to Improve Provider Safety
By engaging in a comprehensive approach to improving safety culture, EMS systems can improve front-line engagement, risk reduction and decreased patient and provider harm. One way to do this effectively is by using a PSO to help measure compliance and improve the entire safety culture. Specifically, participation with a PSO can:
Protect quality and safety data within your organization and what is shared with the PSO, filling in any gaps in your current state peer review protections (almost half our states have weak peer review protections for EMS).
Assist with data analysis to understand the systemic causes of events.
Provide training to drive improvement in the operational and behavioral aspects of culture.
Participation in a PSO also means EMS organizations can be confident in the protection of their data and event analysis from legal discovery, gain expert assistance from safety culture experts, and learn from each other within the protected space of the PSO.
5
Top 5 Ways a PSO Can Help Improve Safety Culture:
Event Reporting: Reducing barriers to event reporting and improve the probability of a report being made. Event reporting using paper forms, or by email or phone call, is not uncommon. These types of reports are hard to track and potentially not protected by peer review protections. PSOs can provide online incident reporting systems that are secure, easy to use, and build protected databases of information that can be used to better understand system trends and issues.
Event Analysis: Gathering and understanding what happened in a safety event is critical to making sure it is not repeated. PSOs provide expertise to understand the operational as well as behavioral aspects of events and can gather experts and stakeholders to systematically review all factors to determine the right solution. This can include working with manufacturers to build safer, more reliable equipment.
Sharing of Lessons Learned: Making an improvement in organizational culture can be difficult especially given the pressures of day-to-day management responsibilities. Learning lessons the hard way is much less optimal than learning lessons from others. PSOs provide a way to share best practices between their members and can help identify benchmarks and goals, outlining pathways other have taken to achieve these goals.
Build Trust: One of the foundational elements of culture is trust. As a neutral third party PSOs can provide assurances that information is safe and won't be used punitively. That role is missing and vital especially when difficult situations arise with staff, unions, manufacturers or even other providers. PSOs provide EMS leaders the tools they need to work through the data gathering, analysis and implementation of safety improvements.
Education: Breaking away from the old ways of doing things requires new tools, ideas and techniques. A safety culture requires the organization to constantly identify risks and mitigate those risks without miring itself in red tape. This includes training in the principles of continuous quality improvement, teamwork and Just Culture. None of these topics can effectively be taught once a year or deployed successfully with a simple algorithm. PSOs can help with the long-term dedicated effort necessary to improving the safety culture.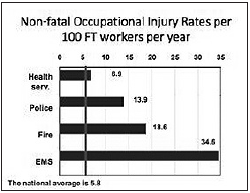 Using a PSO in these ways can assist in the hard work of improving your organization's safety culture. Specifically PSOs can assist with monitoring and addressing:
Provider Deaths (LODD): PSOs can assist in gathering data and assessing caustitive factors of EMS provider line of duty deaths. Armed with this information, agencies can make changes in policy, practice and technology to help ensure that it doesn't happen again.
Vehicle Safety: There are many long-standing efforts to decrease transportation incidents. The ability of the PSO to gather the incident-specific data and provide the accident investigation can bring light to issues common to systems across the country. Vehicle operation training and practices can then be adjusted to improve staff safety.
Lifting, Slips, Trips & Fall Injuries: These non-fatal injuries can be devistating to an individual's life and career. From lifting patients to repeatedly lifting heavy equipment, the same data, analysis and recommendations need to be made within a culture of safety. This is another area where a PSO can help.
Violence Against Providers: Working with a PSO will allow individual incidents to be reported and the collective information analyzed so equipment, practice and methodologies can be changed to decrease the prevelance of providers getting attacked.
Mental Health & Wellness: PSOs can also help with issues such as the mental health, wellness and safety of staff to better undersand the causitive factors of provider stress, "burn out," substance use and even suicides so we can do more as an industry to help prevent them.
Conclusion
All of us want our patients to be safe, to be provided the best possible care, and for our fellow EMTs, paramedics, employees and volunteers to go home at the end of shift. The nation's experts have clearly stated that safer environments for workers, and vice versa, because both are tied to many of the same underlying cultural and systemic issues. The bottom line is that if the provider isn't safe, the patient isn't safe. PSOs can be an effective partner with EMS leaders to help improve the safety culture of our profession through a long-term, dedicated effort to change the individual and system approaches to improving patient and provider safety.
This article scratches only the surface, and is not intended as legal advice or legal counsel in the confines of an attorney-client relationship. For more information about safety culture, PSO participation, or the legal protections afforded by PSOs, consult a safety culture expert or an attorney knowledgeable about PSOs. 
REFERENCES
1. NHTSA, EMSC, ACEP. (Oct. 3, 2013) Strategy for a National EMS Culture of Safety. EMSCultureOfSafety.org. Retrieved on June, 12, 2015, from www.emscultureofsafety.org/wp-content/uploads/2013/10/Strategy-for-a-National-EMS-Culture-of-Safety-10-03-13.pdf.
2. Maguire B., Hunting K., Smith G., et. al. Occupational Fatalities in EMS: A Hidden Crisis. Annals of Emergency Medicine. 2002; 40(6): 625‐632.
3. Maguire B., Hunting K., Guidotti T., et. al. The Epidemiology of Occupational Injuries and Illnesses Among EMS Personnel. Prehospital Emergency Care. 2005; 9: 405–411.
4. Maguire B., Hunting K., Guidotti T., et. al., ibid.
5. There are currently two PSOs that are focused on EMS: The Center for Patient Safety and the Emergency Medical Error Reduction Group (EMERG).

With more than 20 years of experience as a paramedic, hospital administrator and health care consultant Matt Womble has seen the consequences of error. He is the co-founder and executive director of the Emergency Medical Error Reduction Group (EMERG), a national PSO dedicated to improving the safety of patients and providers across the emergency medical system.