In auto racing, seconds can make the difference in winning or losing a race. NASCAR teams have proven the effectiveness of what's referred to as the "pit crew" approach to rapid, coordinated, maintenance stops to avoid unnecessary delays, get critically important tasks completed in the minimum amount of time and avoid errors that can cost time.
In the race to save cardiac arrest patients, it's now also been shown that the use of a pit crew approach by EMS crews can also make resuscitations more effective by reducing interruptions in compressions and peri-shock pauses, reducing delays in interpreting cardiac activity, eliminating pauses for airway management and reducing the time it takes to place and activate mechanical CPR devices.
This series of articles focuses on three progressive EMS systems that have each been highly effective in standardizing their approach to cardiac arrest resuscitation by implementing the pit crew approach to resuscitation, using well-defined process and clinical procedure checklists and other methods to limit delays in the care and resuscitation of patients.
Wichita-Sedgwick County
In 2012, the Wichita-Sedgwick County, Kansas, EMS System (W-SCEMSS) modified the Austin-Travis County (Texas) EMS pit crew approach to resuscitation of cardiac arrest patients to meet the needs of the local system (editor's note: the Austin-Travis County system will be featured in the April edition of EMS Insider). The goal was to not only produce a more consistent resuscitation team and a well-choreographed approach to resuscitation but to also produce better results from resuscitations, increasing the number of return of spontaneous circulation (ROSC) patients and patients that leave the hospital neurologically intact.
The pit crew model designs structure, consistency, efficiency and accountability into our approach to resuscitation.
W-SCEMSS took the basic Austin-Travis County design, which had defined roles and responsibilities for each team member and the "sacred BLS triangle," and made it its own by having EMS providers refine it to be workable in the Wichita-Sedgwick County system. (See Figure 1.)
Among other things, W-SCEMSS made a decision to have very specific equipment placement. For example, the cardiac monitor is specified to be placed so the rhythm and end-tidal carbon dioxide (EtCO2) information on the monitor can be seen immediately by more than one ALS provider and the BLS pit crew. This ensures that paramedic consensus regarding the rhythm occurs with minimum delay and without lengthening the CPR pause if there's any question. It also provides real-time feedback regarding compression effectiveness and the potential ROSC to the entire team.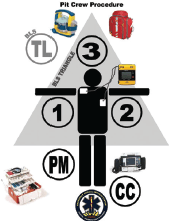 W-SCEMSS also chose to choreograph all actions to the number of compressions in a cycle rather than having crews try to watch a clock to keep time. With a metronome set at 110/minute, the cycles are 220 compressions rather than two minutes. Every 20 count is called out by the person in the airway position of the resuscitation team so the rest of the team knows when to perform other actions that are required at a specific time during the cycle.
Given the economy in recent years, W-SCEMSS has limited resources for quality improvement. Therefore, the choice of what would be monitored and evaluated needed to be very deliberate and focused so the medical director and clinical coordinators would know if the system was producing better results.
Traditionally, metrics such as response time have gotten a great deal of play in the EMS industry as worthy of measurement, mainly because they were relatively easy to measure. But in recent years, studies have shown that the time to get to the patient's side likely plays much less of a role than what happens once the provider encounters the patient.1,2
W-SCEMSS' first step in deciding what metrics were worth measuring was to decide what the most important endpoints to reach were. The ultimate goal was not only to deliver more pulsatile patients to EDs, but to also have more patients leave the hospital neurologically intact. Because W-SCEMSS participates in the national Cardiac Arrest Registry to Enhance Survival (CARES), with its linkages to hospital outcomes and standardized definitions, the method of monitoring progress in and comparing to EMS agencies nationally was already in place.3,4
W-SCEMSS chose to monitor the impact of the pit crew approach in two areas and within several time frames:
Area 1
First, how was the system complying with the simple targets set for each individual patient resuscitation based on the best currently available practices and evidence? The three items identified as most important were:
Minimal CPR interruptions (target less than 10 seconds);
Compression rate of at least 100/ minute (including pauses), with CPR ratio of > 95% and compression ratio of ? 90%; and
3. Right-timed defibrillation.
These were encouraged in our pit crew model by the following processes and procedures:
Joint education sessions for all providers on the critical importance of limiting compression pauses;
Use of metronomes set at 110/minute; and
Charging the defibrillator prior to each 220 compression pause for rhythm check to limit additional delay for charging.
Area 2
The W-SCEMSS team also felt it important to provide prompt feedback on individual performance to all providers caring for a patient, so self-motivated behavior modification could take place without further supervisory intervention. This was done by annotating each cardiac arrest (preferably within 72 hours) and providing the documentation to the crews and their supervisors.
Pause duration was specifically noted, as was CPR ratio, compression ratio, compression rate and compressions/minute.
Initial data was very encouraging, but after about 3–4 months, system administrators noted a pronounced drop-off in compliance, with pause lengths creeping up over 30 seconds and compression ratios down to 80% from more than 90%.
At this point, the system didn't have enough patient data to prove that the changes that had been made were making a difference overall in neurologically intact survival to discharge. It would take at least 9–12 months to potentially show a positive trend. But it was clear the system needed to reengineer its pit crew approach by creating simple process changes to create a default path that would produce the desired result.
To meet the three targets outlined in Area 1, it was clear the primary issue to address was the length of any pauses occurring between cycles. To do this, W-SCEMSS made three process changes:
The entire team is programmed to know that compressions are to restart after 16 metronome beats (8.7 seconds) of interrupted CPR. To ensure this process compliance, the team verbally counts metronome beeps during any pause in compressions. Because the metronomes are set at a rate of 110/minute, the audible count allows the crew to get their hands back on the chest at the 16th beat of the interruption interval and by default keeps pauses under the 10 second goal each cycle. The code commander can ask for a longer pause, but the default is a measured pause that's less than 10 seconds or 16 metronome beats;
The code commander keeps their fingers on the patient's femoral pulse—starting at the 180th compression during each cycle—to monitor quality of CPR and know immediately if there's any organized rhythm noted on the monitor that's actually producing a pulse when CPR is stopped. This eliminates the need for someone to search for the pulse location; and
The defibrillator is pre-charged beginning at the 200 count in each cycle—20 compressions before hitting the 220 mark. In this manner, as soon as CPR stops, the patient can be shocked immediately if a shockable rhythm is identified. This keeps the pause shorter and also limits the peri-shock pause; longer peri-shock pauses have been shown to decrease survival.5,6
By limiting pauses with these interventions, compression ratios came back up to the desired targets. These changes in pit crew choreography have significantly decreased pauses and brought them back into the target range, and W-SCEMSS now consistently shows compression ratios of more than 90%.
Looking at the big picture, the overall W-SCEMSS survival for the year after full pit crew implementation was 13.7% (compared to a national average of 9.4%), an Utstein survival of 48.6% (28.9% national average), and, of survivors who made it to discharge, 91.4% were neurologically intact with cerebral performance scores of 1 or 2 (79.6% national average).
Since implementation of the W-SCEMSS cardiac arrest initiative, neurologically intact survivors have returned to thank providers. None of our success would have been possible without everyone in the system being open to learning and implementing a radical change in how we approach resuscitation, and each resuscitation team fully embracing the new practice pattern, supported by management buy-in.
Sabina Braithwaite, MD, MPH, is medical director of Wichita-Sedgwick County Kansas and clinical associate professor of emergency medicine and preventive medicine and public health at the University of Kansas. She's also the past chair of the American College of Emergency Physicians EMS Committee and of the International Trauma Life Support Board of Directors. She may be contacted at [email protected].
Jon E. Friesen, MS, EMT-P, is a paramedic instructor at Hutchinson (Kansas) Community College.
Scott Hadley, MBA, BSN, RN, EMT-P, is the director of Sedgwick County EMS.
Darrel Kohls, BA, EMT-P, is the education manager for Wichita-Sedgwick County EMS System.
References
1. Blackwell TH1, Kline JA, Willis JJ, et al. Lack of association between prehospital response times and patient outcomes. Prehosp Emerg Care. 2009;13(4):444–450.
2. Blackwell TH, Kaufman JS. Response time effectiveness: comparison of response time and survival in an urban emergency medical services system. Acad Emerg Med. 2002;9(4):288–295.
3. National Center for Chronic Disease Prevention and Health Promotion, Division for Heart Disease and Stroke Prevention. (July 23, 2013.) CARES: Cardiac Arrest Registry to Enhance Survival.
Centers for Disease Control and Prevention
. Retrieved Sept. 9, 2014, from
www.cdc.gov/dhdsp/cares.htm
.
5. Cheskes S, Schmicker RH, Christenson J, et al. Perishock pause: An independent predictor of survival from out-of-hospital shockable cardiac arrest. Circulation. 2011;124(1):58–66.
6. Cheskes S, Schmicker RH, Verbeek PR, et al. The impact of peri-shock pause on survival from out-of-hospital shockable cardiac arrest during the Resuscitation Outcomes Consortium PRIMED trial. Resuscitation. 2014;85(3):336–342.